At some point, this page will be more. Images, text, the whole shebang! Meanwhile, here's some pictures from my time in Florence, the most-documented period of my life.

---

5.18.07
I just graduated! Yes, the 10 seconds it took to walk across that stage were surely glorious. The handshakes and backpats were a joyous way of saying congradulations; you are a free man; you may now start paying back your $20,000 of debt; please enjoy these honorary College of Santa Fe flipflops!


All bitterness aside, however, it was a joyous weekend, replete with family and lawn parties. Speaking of lawn parties, last week I had my senior show, entitled Paramnesia. it contains the best painting I've ever made, a lifesize fence with a lawn party seen through it. If you'd like to learn more, you can read what I wrote about it.


---

3.22.07
I just finished writing a piece I've been trying to write since August. I'm finally satisfied with it, so you should read it. It concerns a mystical experience and revelation I had in the bathtub (where life-changing experiences are wont to occur) when Kate visited me this summer. And it's also about everything else in my life and mind and world.


---

3.19.07
I just got back from Los Angeles, where I spent my spring break with 8 other students and two teachers from my college. It was an incredibly informing, though also rather overwhelming experience. I'll write something about it soon, and provide some pictures. Meanwhile you can find out about the trip through the college art department's blog. I saw enough art to explode a yak, and met some interesting people besides.

Among the highlights was the Museum of Jurrasic Technology, one of the most otherworldly places I've ever been. It creates wonder through the juncture of fact and fraud, and houses a number of curiosities that provoke belief and disbelief simultaneously. My favorite exhibit was Tell the Bees...Belief, Knowledge and Hypersymbolic Cognition. Check this out, it will be worth your time. Seriously. Other neat parts of the museum were a set of microminiature mosaics and some sculptures that fit inside the eye of a needle and a tearoom that felt distinctly like Purgatory.

---

3..07
My love, Kate, just went to Italy for three months. She's working with a sustainability program in located at a castle in Tuscany! You can visit her blog to keep up on her adventures. Here's a painting of her by our friend Pi: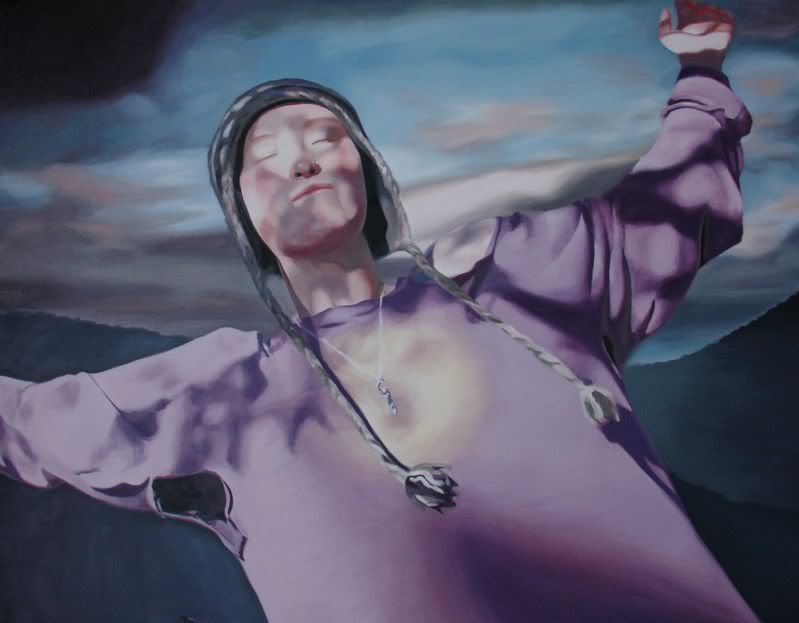 Pretty beautiful, huh?


---
Here's a walk down memory lane:

A prophetic photo taken by Matt Mills, showing the last time my ex-girlfriend Colette and I were together together. For an alternate take on representation, check out Colette's string painting of me from 5 years ago. It doesn't get much more subjective than that, and yes that whole image is made of string. Here's a story about the dissolution of our relationship, from 2004. For your stalking purposes, check out Colette's website.

---

Here's a picture (also by Matt Mills) of me in 2005 performing with the Jug Band at the College of Santa Fe:




The song being performed was "Nothing" by The Fugs, adapted and arranged by us with lyrics by yours truly. Despite the impression of that picture, I was not the main singer. Having more enthusiasm for music than musical skills, I played the washboard and was in charge of summoning everybody to come practice.


---
---
to contact me, email hstone (at) harperstone.org